4 October 2019
By Freda Searle, Elder at Gary Smorgon House
Words are hard to find to describe the wonderful day we spent at Werribee Zoo on the 16th of September.
The organisation required to get 16 of us onto buses - most with walking frames and the others in wheelchairs - was excellent.
I can only express my admiration for Tamara, Cinole, Inder, Lini, Navneet, Rabbi and volunteers, Allan Snyder and Greg Saggus. Also, several gentlemen whose names I don't know, for the effortless way everything seemed to happen. Of course there were a few grizzles from some participants about where they were seated. Our wonderful staff tactfully and with good humour soon had everyone comfortable.
At 10.45 we were off on the great adventure. The drive to the zoo through the suburbs and over the Westgate Bridge was breathtaking for everyone because we'd never been that way for a long time. We all marvelled at how much Melbourne had grown and changed.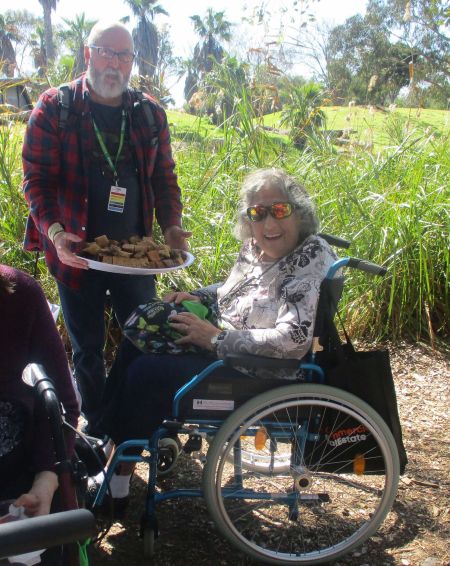 Freda enjoying some lunch at Werribee Zoo
At last we were there. Werribee Zoo was before us. We were all anxious to exit the buses for obvious reasons. We assembled for a delicious picnic lunch. White cloths placed on the picnic tables and we all tucked into the sandwiches, fruit, cake and other tasty food which had been supplied by the hardworking kitchen staff. This was where our great Rabbi showed his stuff. He was everywhere at once. He served, lifted heavy boxes, arranged seating, schlepped and did the work of at least three men. Nothing was too much for him. Thank you Rabbi Nerernberg.
I must add that all these proceedings were watched with interest by a giant black gorilla. We were all pleased he wasn't too close to us despite our fascination.
After lunch it was into the zoo open-carriage bus for our sightseeing tour. Camels, zebras, hippos, giraffes and many different kinds of horned creatures - some were curious about the tourists but most just carried on with their lives.
There were also ostriches and other exotic birds. One baby ostrich came very close to our bus and peered in with bright eyes and then went on its way.
Tour over, it was time to get ready for the trip back to Freeman Street. We were a more subdued group as we were all so tired. I think we were all thinking of what a wonderful day it had been.
Promptly at 4.15pm we were back and unloaded in time to have a little rest and get ready for dinner.
I think everyone who enjoyed the day also enjoyed the best night's sleep they'd had for a long time.