The greatest thing you'll do today...is change somebody's tomorrow. Please donate today.
Spotlight
Tzedakah Sunday Telethon
Volunteers needed to join us on Sunday May 5 to make calls to our community to help us raise $3.5 million!
Jewish calendar
Calendar
Pesach (1st day)

Apr. 20

Yom Hashoah

May. 02

Yom Hazikaron

May. 08

Yom Ha'atzmaut

May. 09
Volunteer & Job Opportunities
Volunteer
Jobs in the Community
Job Vacancies at Jewish Care
Follow us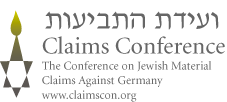 The Claims Conference negotiates for compensation payments and aid to victims of Nazi persecution and for the return of and restitution for Jewish-owned property. Jewish Care Victoria acknowledges the support and generous funding provided by the Claims Conference. This enables us to care for our ageing Holocaust survivors and support them to remain at home in dignity and independently.