The foundations
In 1848, visionaries in our community established the foundations of Jewish Care with the establishment of the Melbourne Jewish Philanthropic Society to provide assistance to those in need. The entire Jewish population of Victoria numbered only 200.
As wave after wave of migrants established their home here, Jewish Care, together with the community, continued to grow and to evolve, responding to the changing needs and aspirations of those it served with the founding of the Australian Jewish Welfare Society in 1938.
The merger
The merger of Montefiore Homes and Jewish Community Services in 2001 sought to create a larger, more sophisticated single-care entity which could more comprehensively service the entire Jewish community.
In November 2023, Jewish Care will celebrate its 175th anniversary. Jewish Care continues to touch more than 13,000 lives each year, helping individuals and families in the Victorian Jewish community receive the support they need to meet their challenges. A lot has changed over the decades, but Jewish Care has evolved with the times to deliver services that are relevant and important to the Melbourne Jewish community today and tomorrow.
The timeline
1848 - 19 November
First meeting of the Melbourne Jewish Philanthropic Society held at The Rainbow Tavern, Swanston Street
President - Samuel H. Harris
1857
The Melbourne Hebrew Ladies Benevolent Society established
1863
The Jewish Mutual Aid Society established
1870 - 31 January
Illustration of The Jewish Almhouses published
Read the article and view the illustration
1870 - 1 September
The Jewish Almshouses foundation stone was laid on the site granted by the Victorian Government on the east side of St Kilda Road
Read the newspaper article, 2 September 1870 about this event
1881
The Jewish Orphan and Neglected Children's Society established
(Now known as Jewish Children's Aid Society)

1888 - 8 July
Melbourne Jewish Aid Society established by Phillip Blashki
1897 - 7 March
Montefiore Memorial Hall (also became known as Montefiore Home)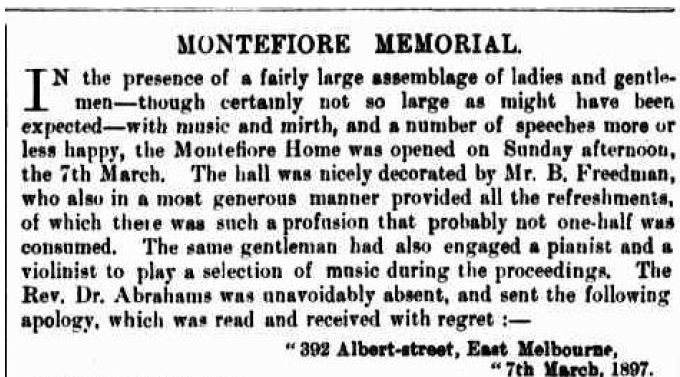 1925 - March
Jewish Welcome Society of Victoria founded
1936
German Jewish Refugees Fund established
The Australian Jewish Welfare Society (Sydney) founded
1938
The Australian Jewish Welfare Society established after the German Jewish Refugees Fund changed its name.
Offices were present in each Australian capital city with Sydney housing the head office.
1939 - June
Larino Home in Balwyn established with the first refugee children arriving in July
1943 - March
The United Jewish Overseas Relief Fund established
1947 - 16 March
Dutch ship 'Johann de Witt' landed in Sydney from Europe with 700 Jewish refugees
1947 - November
Federation of Australian Jewish Welfare Societies established
1948 - 1 December
The Australian Jewish Welfare and Relief Society established
(The Australian Jewish Welfare Society amalgamated with The United Jewish Overseas Relief Fund)
President - Leo Fink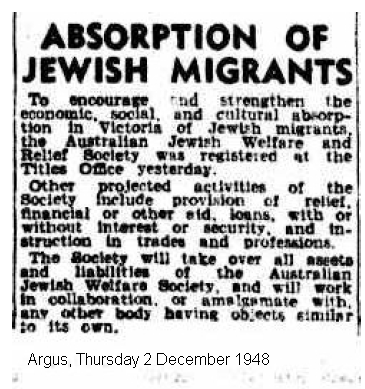 1948 - February
First of seven migrant hostels opened in Camberwell
1948 - April
First Welfare Relief Appeal
1948 - June
Larino Home changed name to Frances Barkman House
1948 - August
First Buchenwald Group arrive
1949
Cr. Baron Marks Wing opened
1955 - March
Jewish Mutual Loan Company Pty Ltd established
The company started with a working capital of £25,000 - a loan from the Jewish Colonisation Assoc in London in conjunction with the American Joint Distribution Committee
1956 - 22 July
S.J. Slutzkin Memorial Wing opened
1957
Montefiore Homes Synagogue dedicated to Sol Green
1958 - December
Sheltered Workshop in Herbert Street St Kilda established
1961
Building of the new Children's Home commenced at Maleela Avenue, Balwyn.
1963 - 3 March
Jacob Danglow Memorial Wing opened
1964 - September
Opening of Rose Court at 27 Herbert St, St Kilda (28 Flats for the Aged)
1965
Change of Frances Barkman House in Balwyn to three family group houses in Caulfield
1967 - September
Opening of Pras Court at 3 Herbert Street, St Kilda (40 Flats for the Aged)
The building was named in honour of Isaac Pras, Past President of Montefiore Homes for the Aged (1963 - 65)
1968 - 3 November
George Kraus Memorial Wing opened
1971
Land at Fulton Street, St Kilda East was acquired to develop the Society's third block of flats for the aged.
1973
'Welcare' Magazine - The newsletter of The Australian Jewish Welfare and Relief Society commenced
1973 - 20 May
Opening of Leo Fink Court (26 Flats for the Aged)
1973 - November
First group of USSR migrants arrived under Welfare Society sponsorship
1975 - 25 February
Gandel Besen Wing opened
1978 - June
Esther Pitt Loan Fund established with a $10,000 donation by Mr Michael Pitt
1979
Property at 13 Fulton Street, St Kilda East was purchased with a view to building another block of flats for the aged
1979 - 22 October
Melbourne Hebrew Memorial Nursing Home opened at Ashwood
1979 - 1 November
Glen Eira House established for young people with disability
1980
Parents & Friends of Glen Eira House Support Group formed
Land with frontage to Alma Road was purchased for the development of 35 additional flats for the aged
1982
Tuesday Club for elderly Jewish people organised
1984 - April
Opening of Sholem & Ilse Bontschek Courts (35 flats for the Aged)
1984 - September
The St Kilda Jewish Drop-In Centre established
Respite House for children with disability established in Caulfield
1985
Co-Residence for mildly intellectually disabled young adults established
1986 - 26 May
Alan Rabinov Day Care Centre opened
1987 - 11 October
Smorgon Family Nursing Wing opened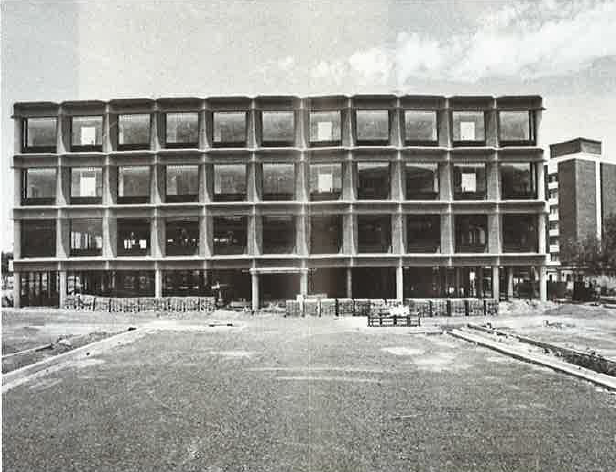 1988 - 1 July
Jewish Welfare Society Inc established
1990 - 9 August
Jacob's House for young people with disability opened
1992 - 20 February
Sonia and Don Marejn Day Care Centre opened
1993 - 19 November
Montefiore Homes Foundation launched
1993 - December
25-27 Alma Road purchased as the new headquarters
1995
Jewish Community Services Inc established
President - Jeffrey Appel OAM
Executive Director - Laurence Joseph
1998 - 29 February
The Walter Rothfield Coffee Shop and Morris Plotkin Music Room opened
1998 - 3 March
Joseph and Stera Gutnik Nursing Facility opened in Caulfield
2000 - 20 November
The Ethel and Jack Goldin Family Day centre opened
2001 - 1 February
Jewish Care (Victoria) Inc established
(Montefiore Homes for the Aged amalgamated with Jewish Community Services)
President - Alan Schwartz AM
CEO - Nancy Hogan
2002
The Bierman Family Aged Care Wing opened in Caulfield
2003
Young Achiever's Program established, with thanks to the Brass Charitable Foundation
2003 - 11 December
'Rose Court' at 27 Herbert Street St Kilda was sold
2005 - November
Active Living Centre relocates to new premises at 76 Kooyong Road, Caulfield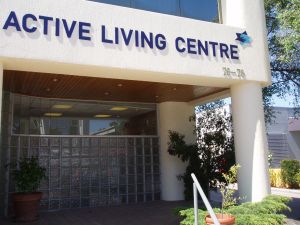 2005 - December
'Pras Court' at 3 Herbert Street St Kilda, was sold for $7.3 million
2006 - 20 June
The Mark and Dina Munzer Community Residence opened
(incorporating The Joseph and Stera Gutnick Nursing Home, The Bierman Family Wing and The Goldin Family Wing)
2007
Opening of Prahran Grove supported accommodation for adults with a disability
2009 - 11 February
Foundation laying of Glen Eira Villas
2009 - 18 February
Opening of Children's Respite House, Kooyong Road
2009 - 7 July
Opening of Gary Smorgon House
2010 - 10 February
Opening of Glen Eira Villas
2011 - April
Inaugural Staff & Volunteer Service & Excellence Awards
2012 - 2 February
Glen Eira Villas Adult Respite Centre launched
2012 - 18 July
Jewish Care mascot "Tzeddy Tzedakah" is born
2012 - October
Glen Eira Villas renamed The Richard and Marietta Manders Villas
2013 - 20 February
165th Anniversary Event held at Windsor Hotel Grand Ballroom, launched by The Premier of Victoria Mr Ted Baillieu
2015 - 21 July
'Cents for Senses', first digital crowdfunding campaign launched
2016 - 17 March
The Coppel & Piekarski Family Disability Respite Centre opening
2016 - 7 July
Hannah Cohen and Family donate $5 million in memory of the Late Daryl Cohen
The new 9-storey aged care and community services building is named in their honour, The Hannah & Daryl Cohen Family Building
2017 - 4 July
The Coppel & Piekarski Family Disability Respite Centre wins the Sir Osborn McCutcheon Award from the Australian Institute of Architects Victoria, for its commercial architecture design
2018 - 30 July
Jewish Care announces sale of 52 Northcote Avenue, Caulfield North, site of The Mark and Dina Munzer Community Residence
2018 - 30 August
Together with nine other faith-based organisations, Jewish Care pledged commitment to inclusivity for all LGBTIQ people who seek services
2018 - 19 November
Jewish Care celebrates 170 years anniversary at Quat Quatta, Rippon Lea
2019 - 14 May
Ground breaking event marks the beginning of construction on the Anne & Eric Smorgon Active Living Centre in Freeman Street Caulfield
2019 - 3 June
$5 million donation from Charles Holckner OAM and Family
In recognition, the St Kilda Road site will be named The Holckner Family Senior Living & Community Precinct.
2020 - 12 March
Jewish Care takes ownership of the completed construction of the Hannah & Daryl Cohen Family Building
2020 - 28 April
93 Elders moved from Montefiore Homes into the new Hannah & Daryl Cohen Family Building
2020 - 7 November
Opening of the Anne & Eric Smorgon Active Living Centre in Freeman St, Caulfield
2020 - 7 November
47 elders moved from Smorgon Family Nursing Home to the Smorgon Family Building in the new Residential Home Carnegie