1 February 2022
As a proud Rainbow Tick Accredited organisation, Jewish Care Victoria takes great pride in supporting the LGBTI+ community through advocacy and everyday actions.
One way we do this is through active participation in the annual Midsumma Pride March as part of the Midsumma Festival, a 22-day annual celebration of LGBTI+ arts, culture, and the diverse communities that exist within the larger LGBTI+ community.
For many years we have been delighted to march under the 'Jews of Pride' banner with several other Jewish groups and organisations. At the end of 2021 we renewed our commitment to march and donated to the 'Jews of Pride' sound truck.
It is with deep regret that due to the significant community transmission of COVID-19 throughout Melbourne, Jewish Care is unable to attend this year's Pride March. As Victoria's largest Jewish services provider, our commitment to ensuring the safety of our elders, clients, staff and the broader community is of upmost importance and priority.
Jewish Care wishes Jews of Pride and all those who march a safe and enjoyable event.
To find out more about Jewish Care's commitment to inclusive practice, contact [email protected].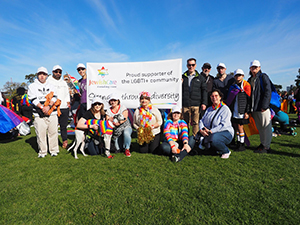 Jewish Care Victoria staff with the organisation's Pride banner at the 2021 Pride March
Media contact:
Elana Bedwell – Marketing & Communications Manager
Tel. (03) 8517 5701 / 0477 011 880
Email. [email protected]
View all Jewish Care Media Releases at: http://www.jewishcare.org.au/news