22 November 2018
by Fross Driscoll, Corporate Receptionist and Marilyn Kraner, Manager- Individual & Family Support
November 25 marks the International Day for the Elimination of Violence Against Women.
On this International Day, a familiar face shares her story.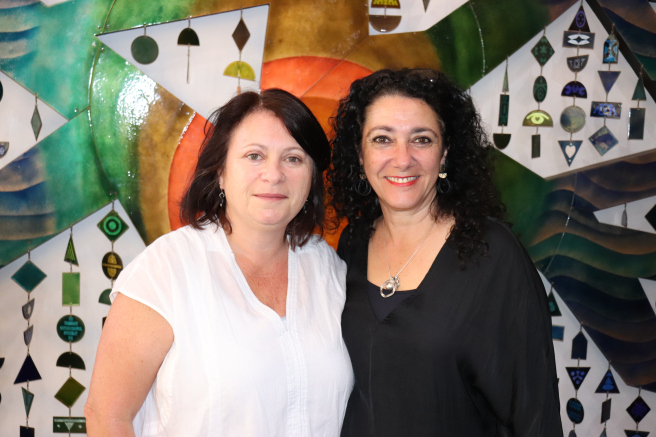 Fross Driscoll, Corporate Receptionist
I was very young when I first got married. I was 16 and both of us thought that we were totally in love. He was incredibly generous and loving, but looking back now I can see the dishonesty and lies as well.
He first hit and pushed me two years into the marriage. I was totally shocked; I couldn't understand why he did it. I don't think he did either. It seemed to come completely out of the blue; we hardly ever argued. I wonder if role-modelling had an impact – his brother and his wife had recently moved into the family home with us, and his brother behaved very violently towards his wife.
He was so remorseful and apologetic after it happened. I made him promise to never do it again, and he swore to me that he wouldn't. And so I decided to give him another chance. I forgave him, believing that it was a one-off.
Days and months went by. He would get angry and there'd be a push or a shove. I would yell at him to stop. Little by little it got worse. Once I told him he was becoming like his brother and that really made him mad.
The day that scared me the most was when he locked the two of us in the bedroom. He became really angry and threw me on the bed and started to choke me. I was screaming "I can't breathe, what are you doing, get off me" but he just tightened his hands.
My father-in-law could hear what was going on and started banging on the door. Eventually he managed to smash the door down. He pushed my husband aside and picked me up and carried me out of the room.
I said that's it, I'm going to leave. My husband begged and pleaded, "I'm sorry, I'm sorry." My father-in-law pushed me to stay, promising that it was the last time it would happen and he wouldn't do it again.
Of course, he did do it again. Time went on and he kept pushing me and hitting me. He was always sorry afterwards; he would say things like "I love you, I always will" and he'd try to make it up to me. Four years into the marriage I fell pregnant. One day he came home and he was angry, he'd had a really bad day, and he pushed me to the floor. I looked up at him, heavily pregnant, and said "What are you doing?" He told me to stay down there where I belonged.
It ended when he left. He didn't give any explanation, he just disappeared and didn't come home for weeks. I'm so thankful now but at the time I was distraught. I still loved him.
It's easy to read a story like this and say "Why didn't she leave?" but in reality it's never that simple. I felt an obligation to stay and make it work. I carried a lot of guilt. I felt that it was my fault; that it was my job to keep the peace, my responsibility to keep the family intact, and everyone around me reinforced this.
Being in such a small, traditional community made it very difficult. I was so afraid of the shame and what people were going to say about me. I would have been a single mum, which is extremely taboo in the Greek Orthodox church. I would tell myself that the violence wasn't so bad. I used to say to myself, "You can get through this."
Being in this organisation and seeing the work we do, hearing the social workers talk to yet another woman who is experiencing abuse – this is what makes me want to speak up. Knowing what we do helps me to remind myself that it wasn't my fault, and that it's okay to speak up and tell my story.
Talking about this is healing. It feels empowering. I don't want people to read this and say "oh, poor Fross," – that's not the intent. I'm sharing my experience because I want to show others: you're not alone, and it's okay to talk about it.
The guilt that I felt, the vulnerability of being young and isolated, the influence of my culture – all of these things made me feel like I couldn't say anything. I don't want it to be that way anymore. I didn't have help available to me at the time but I want others to know that it's there. I never told anyone what was happening to me. If someone had said to me at the time "it's okay, you can talk about it", that would have made all the difference.
---
Marilyn Kraner, Manager – Individual and Family Services
I have practised as a social worker for 30 years and yet I continue to be stunned and shattered when confronted with stories of violence or abuse.
When someone I know well – who I have worked with, trained alongside, managed or supported – discloses an experience of family violence, I am forced to stop and listen. We should all stop and listen.
The reality is that family violence is heartbreakingly common – and so it should not come as a surprise that there are staff members who work alongside us who have experienced it, whether currently or in the past.
Anyone who comes to St Kilda Rd will know Fross's smiling face. Many of us know her for her friendliness and warmth, her helpful nature, her infectious smile. Her skill in engaging staff, clients, elders, volunteers and community members was in fact recognised by Jewish Care when she was awarded the CEO Customer Service award in 2016 – and more recently, the Ethos Mission award. What may be a lesser known fact about Fross is that she has a lived experience of family violence – one that almost saw her lose her life at the hands of her now ex-husband.
We know that speaking out about violence is particularly difficult in close-knit communities. Though Fross didn't grow up in the Jewish community, her Greek background shares many of the same themes – the importance of family; the fear of bringing shame; the responsibility one feels to keep a family 'intact'.
Fross decided to share her story because – as is typical of her generous nature – she wanted to help others; to assist staff or volunteers within our organisation who may have their own hidden histories of abuse, or who are currently experiencing violence.
As a manager of staff of all different ages, ethnicities, backgrounds, abilities and vulnerabilities, it is my job – alongside the program managers and team leaders that I support – to ensure that our staff members have the opportunity to flourish and grow in their roles. And that includes understanding how the experiences we bring with us to work impact on us.
Our work selves and our personal selves are intertwined. None of us come to work with a clean slate; as well as our current experiences, we carry with us stories of families and communities, the influence of our childhood, adventures and losses. We carry all of the history and lived experience that has shaped us – and when those memories and stories are characterised by violence or abuse, it can leave a scar.
Trauma comes in all shapes and forms, and it has an ugly way of rearing its head when least expected – when events or environments remind us of darker times, perhaps when we had less control or our voices were silenced. The memory of trauma, when triggered by a sight, sound or smell, a particular event, can be as immobilising as if were happening in the present.
Fross and I have talked together about how the workplace can be a site that both protects and triggers. For someone with a more historic experience of abuse, it might be that particular memories are triggered at work: a raised voice, a loud noise, working with a client who shares an experience similar to our own. It is our role as leaders to create space for a conversation with the staff member to explore how they can be supported to manage these triggers.
For a staff member with a more current experience of violence, the support provided might be more pragmatic and protective. Creating a safety plan; blocking the calls of an abusive spouse to avoid harassing contact; support to enter and leave the workplace; facilitating access to family violence leave. There are a range of options available to ensure that work is a safe space.
Irrespective of whether violence or abuse is a current experience for a staff member, or a past one which still echoes today, we must be committed – as managers, and as an organisation as a whole – to ensuring that we create an environment that is supportive; one that is responsive to the impact of trauma, that provides space for continued growth and healing, and most of all, enables employees to be safe and well at work.
---
If you or someone you know is experiencing family violence, please reach out – support is available. Call Jewish Care on 8517 5999 to speak to a social worker. All enquiries are confidential and can be anonymous. For 24/7 support, call 1800 RESPECT on 1800 737 732 or Safe Steps on 1800 015 188.