6 November 2019
By Amy Bachrach, Volunteer
Over the past several months, two Jewish Care volunteers, myself and Sharone Mizrahi, have been teaching a small group of Elders at Gary Smorgon House how to use digital technologies to enrich their worlds and support family and community connections.
The Gary Smorgon House program is the result of a shidduch. Jewish Care had received a LearnLocal grant to teach interested Elders computer basics. That coincided with my business idea: a coaching service to help the elderly stave off loneliness and boredom by using computer apps and tools. Research shows that the digital divide is greatest and growing for older Australians, especially women, and that small programs have an important role in closing the divide.
What began as a class teaching mouse and keyboard skills, has evolved into individualised sessions coaching each Elder to access apps and tools that bring them closer to family, and that fulfil their own social, intellectual and spiritual needs.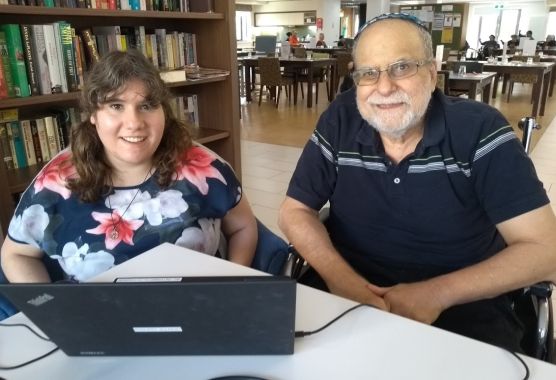 Ellis Reuben (72) got involved right at the start. Ellis wanted a way to listen to the music he loved, so Sharone sat with him and helped him to explore the popular music streaming platform Spotify. What music did he want to listen to first? Carole King. The Rolling Stones. Frankie Valli. Pretty soon, Sharone was helping Ellis to build his own personal playlist. When Ellis revealed that he had played in his own band while a physics and maths student at the University of Western Australia, the team agreed it would be fun to use PowerPoint to put together a presentation of Ellis' life, complete with samples of the music his band played and photos his wife had brought in.
Since then, Sharone and Ellis have set up his Facebook page and he is now Facebook friends with a brother and a cousin. "It's very inspiring to work with the Elders," says Sharone.
"Each Elder has overcome great difficulties in their lives, but they really know how to laugh."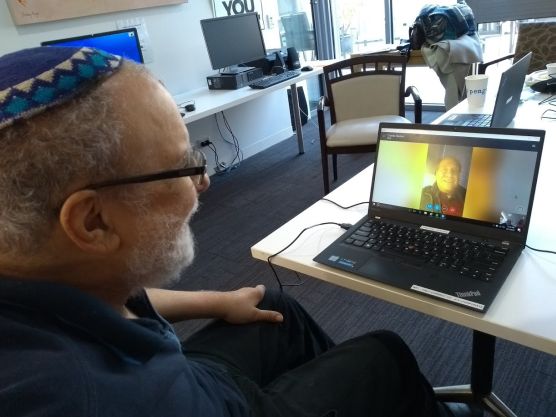 'This class is the highlight of my week.'
Helen Leperere (93) is another regular at the weekly sessions. Asked if she would like to use the class time to tell her story, Helen replied "Again?"
Indeed, Helen had already written a book entitled Memoirs and Reflections, in which she recounted her experiences during the Holocaust. "We want you to write your own story," I explained, "not the story that Hitler forced on you."
Like Ellis, Helen can be found in the computer room every Thursday morning. Now she writes not about her trauma, but about her first love - when they were teenagers in the HaNoar HaZioni youth group in Poland before the war - and about her life subsequently. As a former advertising staffer at The Australian Jewish News, Helen is fastidious about typing without errors. You should have seen her response when Amy showed her that Google Docs allows more than one person to collaborate in real-time with type wondrously appearing on her screen from Amy's keyboard.
Helen's story led them to explore sztetl.com.pl, a website that holds a wealth of information about Jewish life in pre-war Poland as well as during the war and in its aftermath. There, they were able to read about Helen's youth group and other aspects of life in Helen's hometown of Sosnowiec, including the comradery between her father and the revered Chaim Nachman Bialik who lived there for a few years. Helen was also able to register information about a young woman from her town on the Yad Vashem website which was consoling for Helen.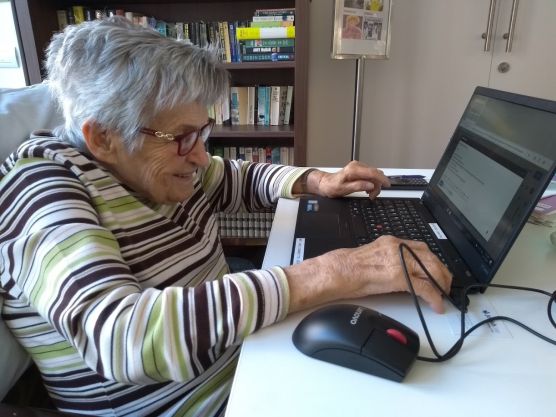 As her story approached completion, I invited Helen to sing a song that was meaningful from her youth in Poland and Helen sang "Lo BaYom v'Lo Ba'Laila" a setting of a poem by Bialik. We have since found YouTube videos of that very song. "This class is the highlight of my week," says Helen.
A shortage of computers has limited the number of elders the volunteers can work with. However, Chaim Granek (64) and I have begun working together with his aide to use voice recognition software to research motor neuron disease, the condition that has resulted in his disability and pre-mature residence at Gary Smorgon House.

While the digital divide persists for older Australians, this program has clearly shown some of the many benefits for our Elders of learning how to navigate a computer and use phone apps to access the world wide web.