19 May 2015
by Natasha Katz
Jewish Care's 2015 Annual Appeal Dinner was held on Wednesday, May 13th, at Leonda by the Yarra in Hawthorn, with almost 400 supporters showing their commitment to the community's wellbeing. Guest speaker Natasha Katz, an Enrolled Nurse at the Smorgon Family Nursing Home, shared her story of working in aged care and how the residents have become her extended family, so much so that she chose to hold her recent wedding in the gardens of Montefiore Homes.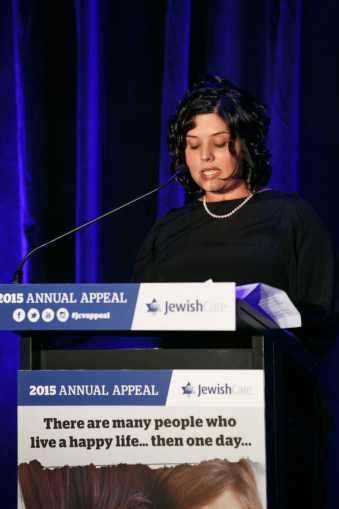 The Oxford Dictionary defines the word 'community' as a group of people living in the same place, or having a particular characteristic in common. Well, with all respect to the oxford dictionary, the definition of community should be Jewish Care.
Allow me to introduce myself. My name is Natasha, Tash, or as my wonderful residents call me – Natashinka.
And this is my story:
In 2008, my parents decided to emigrate from South Africa to Australia. Being told this as an 18 year old was devastating. There was no way I was moving away from my friends and the community to which I belonged and which I loved. I feared that I would never find that sense of belonging anywhere else in the world.
Much to my dismay, in February 2009, we got on a plane and 14 hours later I woke up in my new 'home', Melbourne. I wasn't sure how this was going to become a home for me, but faith and trust in my parents' decision got me through.
After unpacking boxes, learning to drive and finding my feet, it was time to study. I had no idea what I wanted to do! Wherever I went, I heard and read ads about studying nursing and about the high demand for nurses. So I studied nursing. After graduating from my nursing course, it was time to find a job. Initially I thought I was going to work in paediatrics and maternity wards. However, aged care seemed to find me instead!
For my first five weeks of placement, the College I attended placed me in an aged care facility. This gave me my first taste of working with the elderly. I soon realised how much they needed and longed for more than just clinical care. I knew that I was the type of person who would not only be able to go this extra mile, but would want to go the extra mile and give them the holistic care and love they needed.
I came across a nursing position advertised at Jewish Care, and 2 days later had secured an interview.
It was just after Rosh Hashanah that I walked through the doors of Smorgon Nursing Home, met my fantastic new boss, manager and mentor Mary McHugh.
I soon realised that I would fit right in with a staff who all shared the same compassion and love that I did for the residents.
My first shift was interesting to put it mildly! Here was a young 23-year old in charge of high care residents who didn't know or understand me – and vice versa. But the warmth and welcoming I received from them, coupled with the support I had from my fantastic team, got me through. As the days and weeks went by, the residents started to get to me know me – and even with the language barrier (Russian and Yiddish are not my strong points), we share warm hugs and looks. I even get a daily kiss on the cheek from one of the lady residents as soon as I walked into her room.
Since arriving from South Africa and not really feeling as though I belonged anywhere – nor part of a community, I finally belonged somewhere…
I had found my sense of community from the residents at Smorgon family nursing home and my fellow staff. They brighten up my day and continue to add a sense of humility and respect to the responsibilities I have toward them. It is so rewarding – especially when I have a reassuring interaction with a resident and their face lights up. I know I have made their day a little bit brighter.
How many people can say they have 85 grandparents? Each and every resident touches my heart in his or her own unique way, and we often share a giggle together. Sometimes I am even able to offer them comfort and support whilst recollecting a sad memory from the past – or a confused and disorientated episode.
Towards the end of 2013, I came into work and Morris, a very well-known resident, looked at me and said "You have found your husband haven't you?"
I looked at him, smiled, and walked away, knowing that he was right. I continued my shift amazed at his insight into more than just me being his nurse; somehow, he knew my little secret. Slowly but surely, my residents knew all about this wonderful man I had met. Tuvya!
We got engaged soon after, and so the wedding planning began. As exciting as this was for me, it was even more exciting for my residents. We looked at wedding dresses together, décor ideas, flower arrangements – while some even decided that they would be my bridesmaids!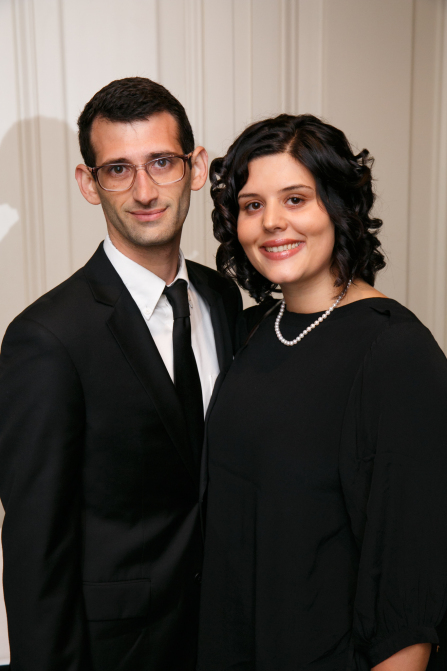 It was at this moment when Tuvya and I knew we had to share our simcha and our happiness with my extended family… soon to be OUR family. We didn't give a second thought as to where our chuppah would be held. Being that Montefiore and Smorgon Nursing Homes are in fact the residents' home, it was important to us to request permission to use their garden. The response could not have been more positive!
Our special day became everyone's special day. The excitement on the residents' faces is something we will always remember and treasure. The nachas was tangible. There was tears of joy and happiness from many, especially those who had not attended a chuppah in many decades.
Jewish Care is not just a place of employment for me; it's become my extended FAMILY. It is a place that I am so proud to say that I work for. It is not only a place that provides an exceptional aged care service but it is also a place that anyone in need in our community can go to for assistance at any time.
As this year's appeal tagline so aptly says: Jewish Care. For our community. Every day.