Daniel needs you...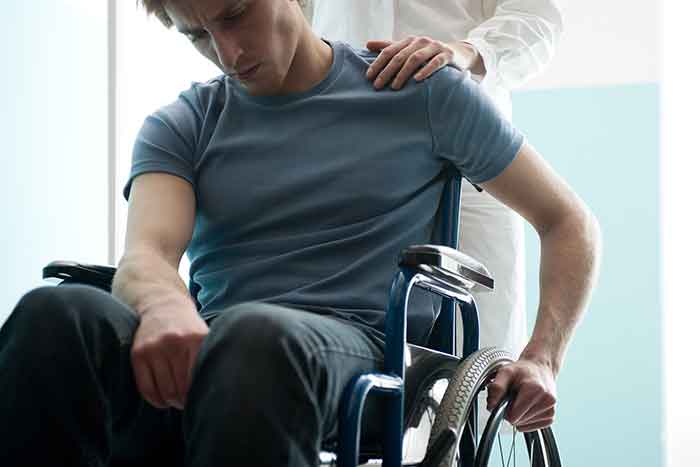 Daniel* is a strong, charismatic and hard-working 35 year old with a fabulous sense of humour. Living in a charming private rental in Carnegie, Daniel's future was bright.
Until, in an instant, his life unexpectedly changed forever.
It was a regular Sunday morning with Daniel going on his usual bike ride along Beach Road. He was riding at a fair speed when his front tyre hit an oil patch on the road. The next thing Daniel remembers is waking up in a hospital bed, unable to move his legs.
That was the start of an agonising road ahead for him - physically, emotionally and financially. His spinal cord had been shattered, resulting in partial paralysis. Weeks of hospitalization were followed by weeks of intensive rehabilitation. Even though he was able to walk short distances with the aid of a walker, Daniel faced a future where he would be reliant on a wheelchair for the rest of his life.
He would never ride again. He would never walk properly again. And it is unlikely that he would ever work as a carpenter again.
Initially, Daniel's father and step-mother wanted him to move in with them. However, their apartment was on the second floor and without an elevator, it would have been impossible for him to manage two flights of stairs.
He decided to go home to his apartment and have a nurse to help him at first. Today, Daniel no longer needs round-the-clock assistance. He is trying to get on with his altered life as best as possible. However, being unable to return to work, his medical and utility bills are piling up and his father is not in a financial position to help him.
Daniel's disability pension barely covers his weekly food and rent. He has sold his car and some of his belongings to pay his debts, but that small pool of savings is running out.
Daniel now faces the prospect of being homeless.
Daniel needs you!
By donating to the Jewish Care 2018 Annual Appeal today, you can change Daniel's life. With your support, Jewish Care can arrange accommodation for Daniel in one of our social housing units.
With your support, Jewish Care can organise immediate financial assistance and counselling to help Daniel pay his mounting bills and teach him to budget effectively for his financial future.
With your support, one of our compassionate social workers can personally oversee Daniel's case, organising referrals to other organisations that could provide Daniel with specialized assistance, such as trauma recovery and counselling.
But we can only do this with your support.
Whether assistance is needed for housing, employment, financial aid, financial counselling, disability or any other vital service, Jewish Care is here for people like Daniel and thousands of others in need in our community, every day.
Daniel needs you!
Your community needs you!
Daniel is just one of six thousand people who turn to Jewish Care each year. As a community, we need to stand together to help each other, which is why I am asking you to please give generously to the 2018 Annual Appeal.
As it is said in the Talmud - "He who saves a life, saves the entire world."
Your support will change lives – every dollar makes a difference!
Yours sincerely,
Mike Debinski
President, Jewish Care Victoria